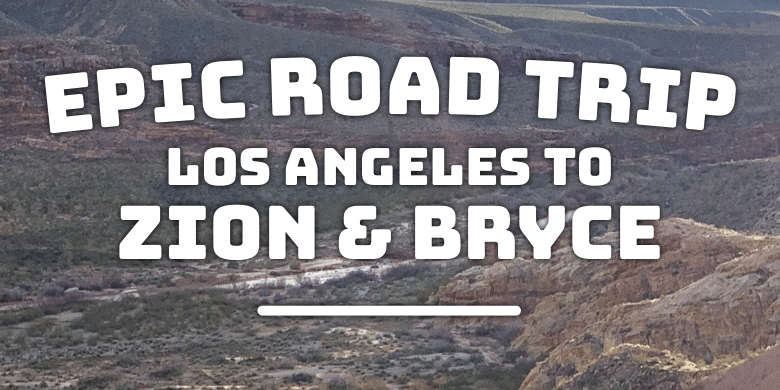 Here's a guide of what to see along this epic road trip from Los Angeles to Zion and Bryce, and what to see along the route. We had limited time, but so much to see. We selected the following destinations and now share our itinerary and route for how to see 12 amazing places in only 3 days. Since we traveled in March, our itinerary had to be adjusted to account for the massive participation we had throughout the winter right up to the day before we left. Many roads were closed due to rain washout, flooding or snow, but we discovered quite a few surprises along the way. I'm just going to hit a couple of highlights from each stop because we have a lot of ground to cover.
Day 1:
Zzyzx Road (Nevada)
Mojave Desert National Preserve (Nevada)
Seven Magic Mountains (Nevada)
Las Vegas Strip (Nevada)
Red Rock Canyon (Nevada)
Virgin River Gorge Scenic Drive through "The Narrows" (Arizona into Utah)
Day 2: Zion National Park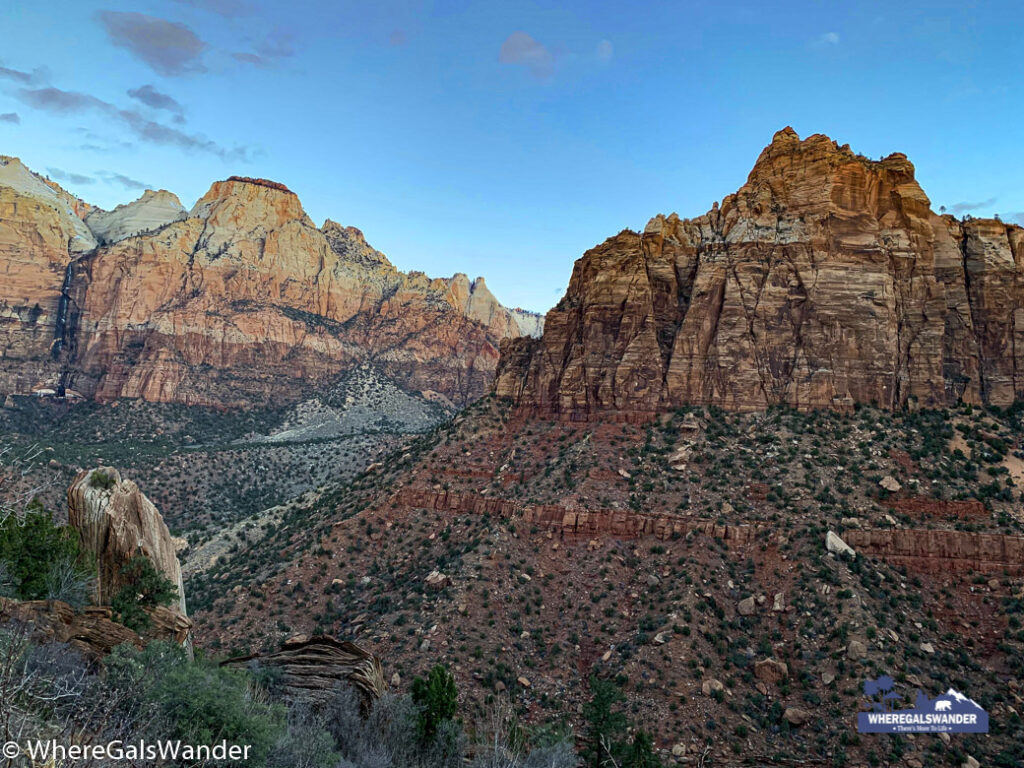 Day 3: Bryce National Park, Red Cliffs
Dixie National Forest, Utah
Red Cliffs National Recreational Area, Utah
Bryce National Park, Utah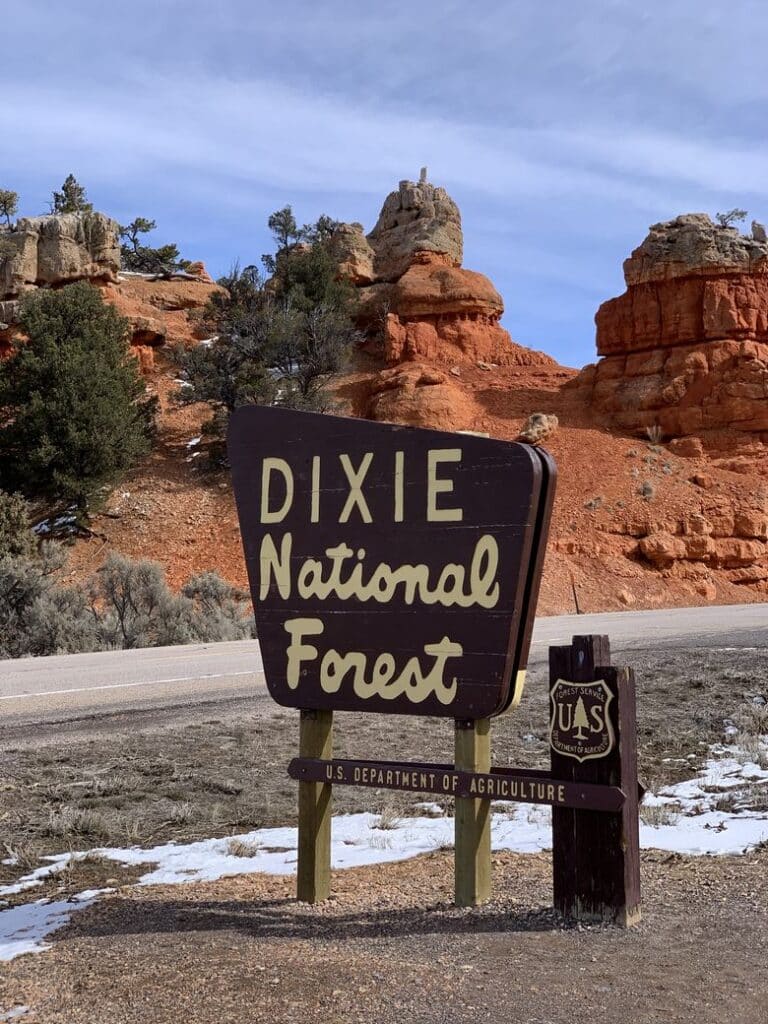 Day One: Road Trip from Los Angeles to Utah
California
We left about 4:00 AM, in the dark hoping to beat the infamous Los Angeles traffic up to Zion. It was incredibly windy that morning and driving the elevations up to Pear Blossom Highway was not fun. Despite the wind and the twisting roads, I actually fell asleep on the drive, and I never sleep in the car. Ever. Of all the cars we have used for travel, this made the 2019 Chevrolet Tahoe my favorite because if it's that comfortable that I fall asleep, you know its a comfortable ride (Thank you Chevy!). If it had been morning, we would've seen the Joshua Trees and the Super Bloom up near Palmdale, but I'm going to cheat and share the photos I snapped on the way home.
Zzyzx Road
We arrived at Zzyzx Road, California just as the sun was coming up. This part paved, part dirt road set the tone for our adventure as the sun rose on us. Zzyzx Road leads to the Zzyzx Settlement into the Mojave Desert, which was our next stop.
Mojave Desert
We took the road through Kelso, stopping at the Visitor's Center, but it was closed. Kelso was an interesting little ghost town, which made for some great photos. Next, we took that to Cima and up through the Desert just before the Nevada state line.

Nevada
Seven Magic Mountains
Once we fueled up in Primm, our next stop was Seven Magic Mountains. This art installation is famous for being known as that big neon painted boulders you see on Instagram. I always see these amazing looking women, in these glamorous outfits with the perfect InstaPoses in front of this art installation. Then there's me. I woke up at 2:30 AM and was driving all day. It was windy as hell, and not the kind of "wind blowing through my hair" kind of breeze. It was wind whipping my hair around my face painfully, as I could feel the windburn, and my lips chap raw. I had on the bulky fashion look known as wearing two winter coats and the bottom of my sweater rolled up into my jacket. I'm damn cold. Dig me.
Las Vegas Strip
We continued on Highway 15 and then drove right down the middle of the Las Vegas Strip because there really is no other place like Vegas, baby. Coming back from Utah, we extended our trip an extra two days with a little bit of luxury at the Penthouse Suite at Mandalay Bay Resort (more posts on that later). We stopped for lunch and then changed up our scenery once again.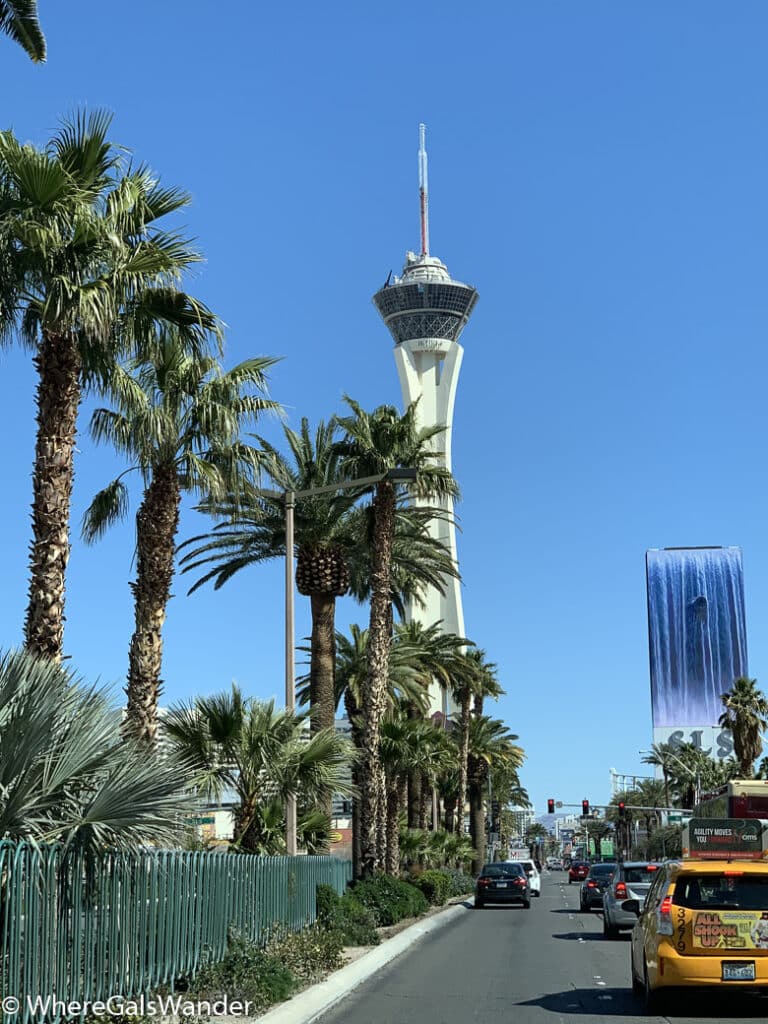 Red Rock Canyon National Conservation Area
What a great place to spend an hour or two. If we had had more time, we would have enjoyed more hiking in this beautiful place. It was a perfect place to fit into our road trip, giving a chance to both stretches our legs and feasts our eyes. The panorama views from the visitor's center and exhibits were amazing. The winding scenic road gives you almost the entire park to see during the drive.
And now on to one of my favorite parts of the trip…
Virgin River Gorge, Nevada into Arizona into Utah
We didn't realize that this was even on our epic road trip Los Angeles to Zion route. When we had stopped just outside of Mesquite, we were chatting with the cashier. We told her about our trip, and she cautioned us to be careful driving through the bridge that cuts through The Narrows because of the high winds we had today. Then I handed the keys to Greg because she lost me at "high winds" and "bridge" let alone "Narrow".
The Virgin River Gorge Scenic Drive is about 25 miles slicing across northwest Arizona just outside the Grand Canyon Parashant. The Gorge has hiking and biking trails that follow the river but is also famous for its scenic drive views. The Narrows are 500-foot limestone walls slicing through either side of Highway 15. The drive connects Beaver Dam, Arizona to St. George Utah, and eventually runs into the Mojave Desert. The golden hour lighting on the landscape was definitely equal beauty to visiting a national park.
Road Tripping Utah
We finally arrived in Utah at about 7:00 PM that night. We stopped for fast food, now having driven in four states and being awake over 17 hours. All I wanted was to climb into a bed. Suddenly, Greg turned into a parking lot of a shopping center and made a U-Turn, heading back in the direction that we just came.
"Did we miss a turn?" I asked. "No." He replied, staring straight ahead. "Then why…" I started to ask; "Just wait," he told me.
We went up a hill, and there it was: like a box being opened, the scene unfolded in front of us. A perfect sunset sky on fire with reds, oranges tipped with blues and purples. If adventure had a color, this would be its crayon.
After the sunset, the next surprise came as the icy snow peaks rose the greet us. The mountains are calling. Therefore, Greg declares we had to see them before it got dark. So off we start taking guesses at which roads lead to the perfect view. We drove through neighborhoods, construction sites, and dirt roads. He wasn't satisfied. We were tired and it was dark. We had to get to our Airbnb. "They will be there in the morning," I said.
Day 2 in Utah
Can you guess what was the first thing we saw when we walked out of our Airbnb the next morning? Well, it was dark, since we woke up before the sunrise but we saw them on the drive back.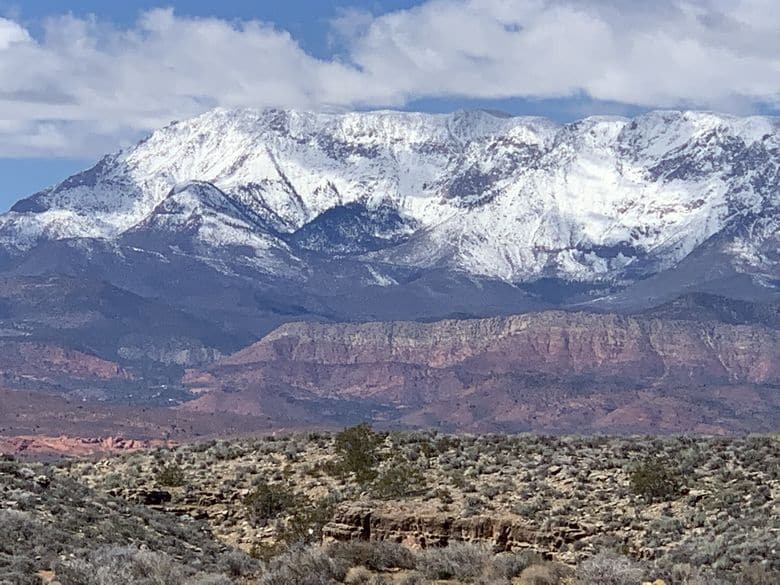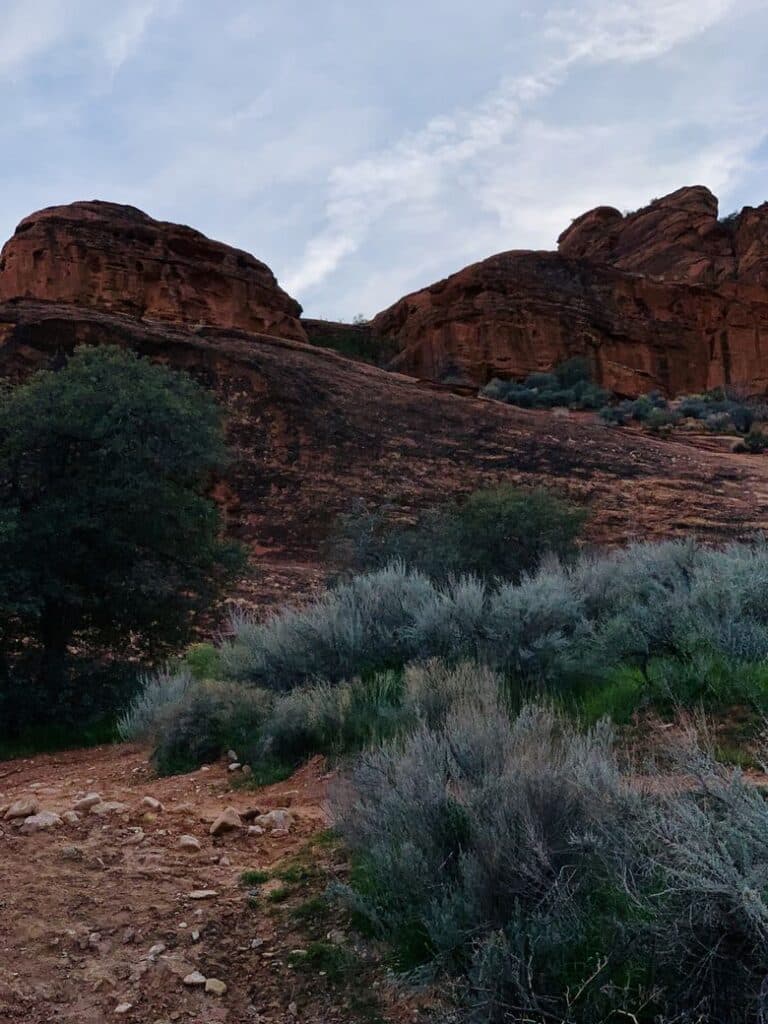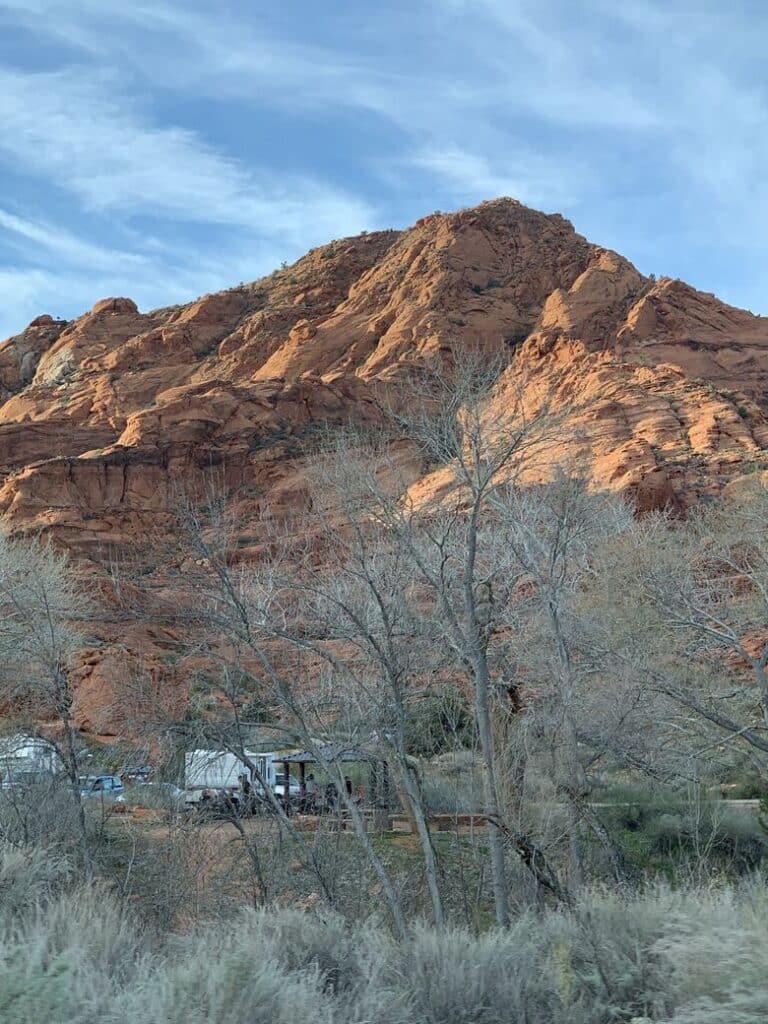 Best Cup of Coffee…Ever
If you are driving through Hurricane, Utah, there is a coffee shop in La Verkin called River Rock Roasting Company I am addicted to Vanilla Iced lattes and this was the best one I have ever had. They also had this amazing orange roll (like a cinnamon roll, but yeah, orange-flavored) that I still dream about. I posted these photos on my Instagram and Hannah over at Hannah Henderson Travels who is based in Paris, immediately commented "I know that place! They have the best coffee!" Not to mention the morning views of the mountains off the back patio. This is what makes a true road trip experience: great coffee and great views.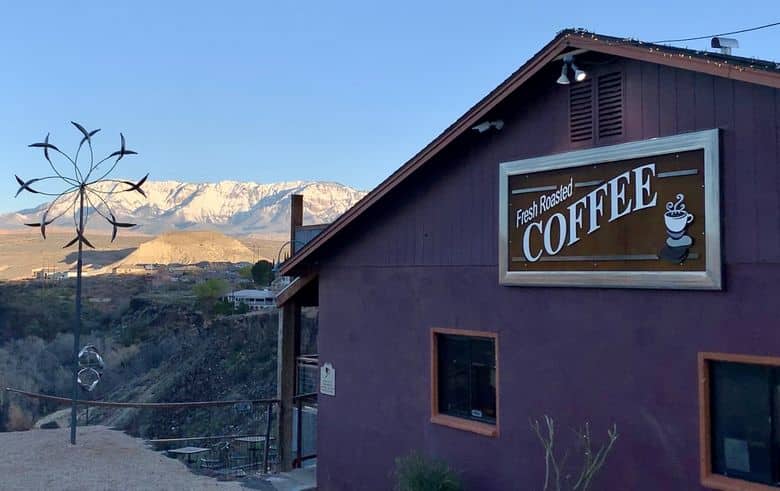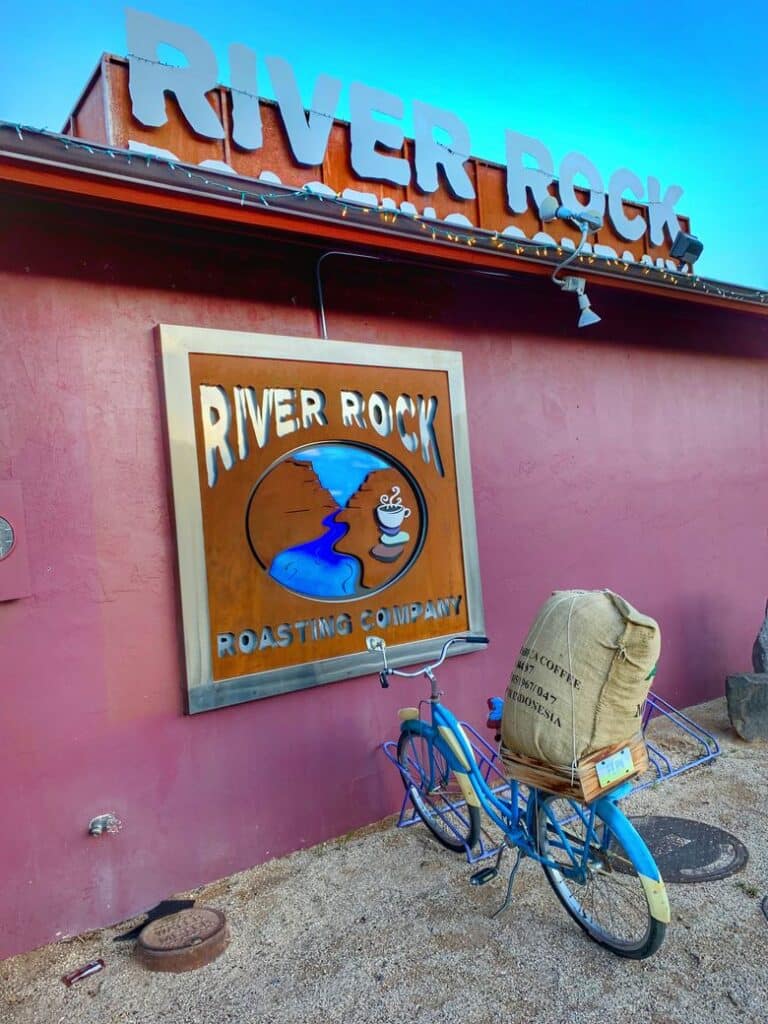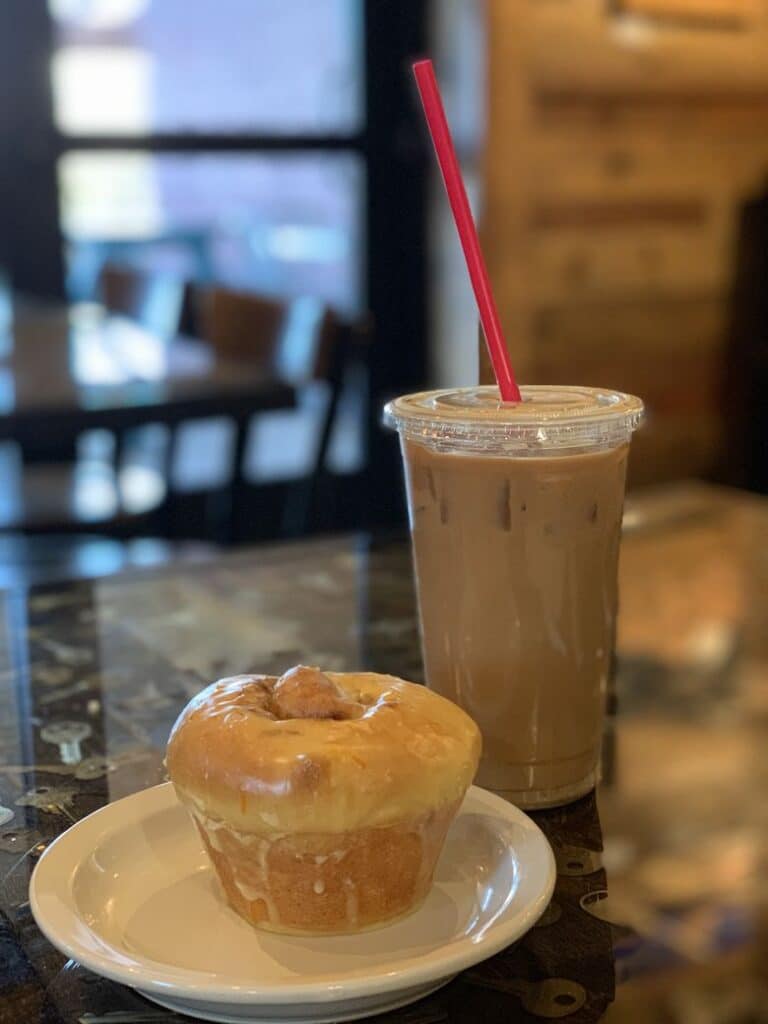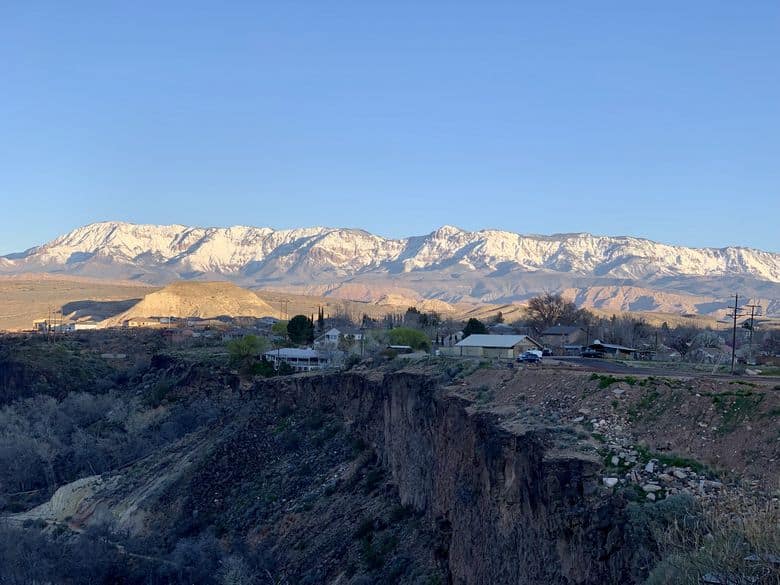 Epic Road Trip Los Angeles to Zion
Arriving at the National Parks
Zion National Park Day 2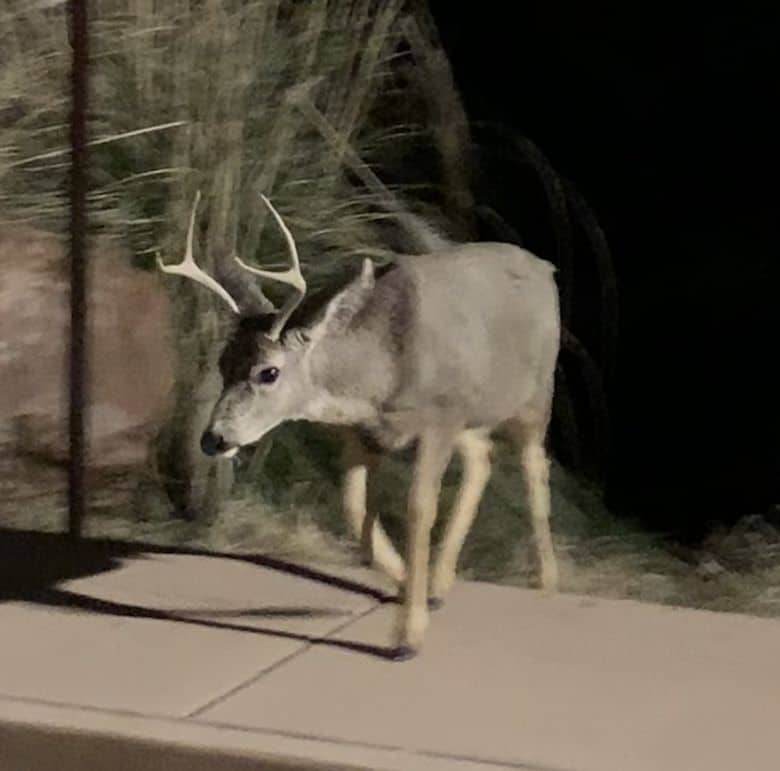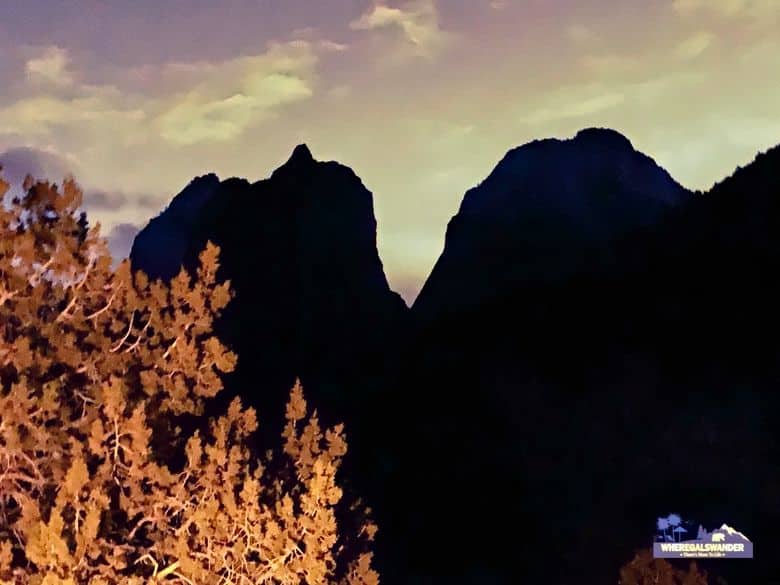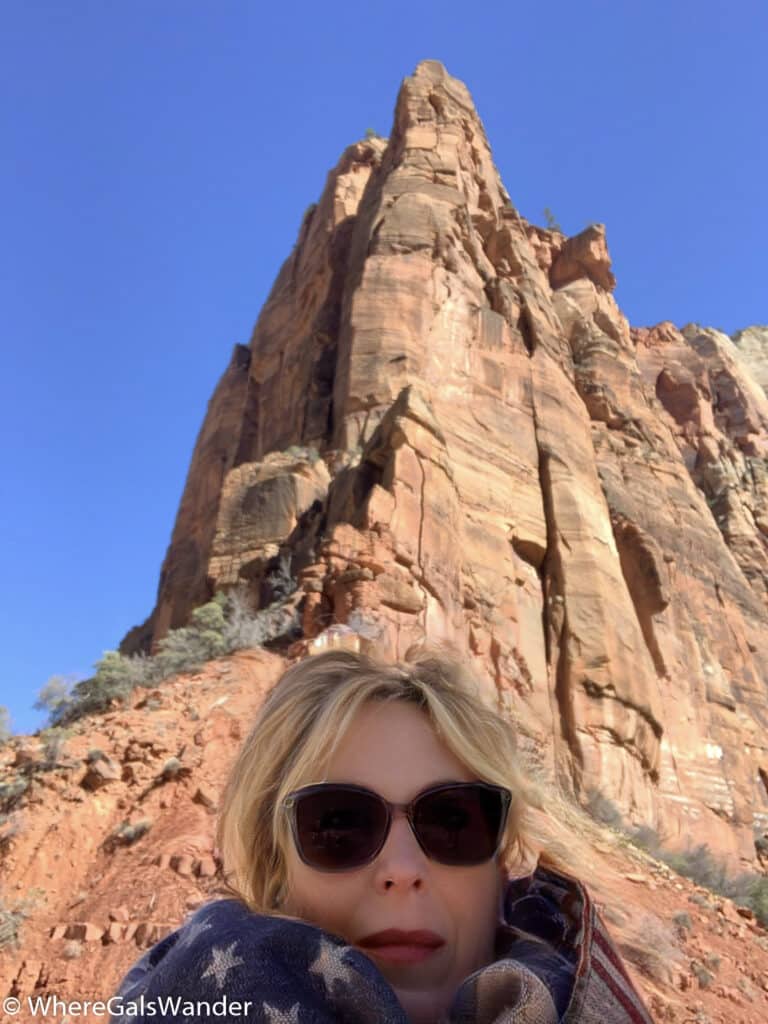 Bryce Canyon National Park Day 3
Driving up to Bryce Canyon made me wonder how the National Park could be even better than the drive-through Dixie National Forest and Red Canyon. The snow caps pines covering the mountains were breathtaking. The charming vintage vibe town just outside of the park made me nostalgic for a place I had not seen before now. The iconic tunnels you pass through were a highlight of the entire trip. Even before you reach Bryce, you can see some of the majestic hoodoos beckoning you.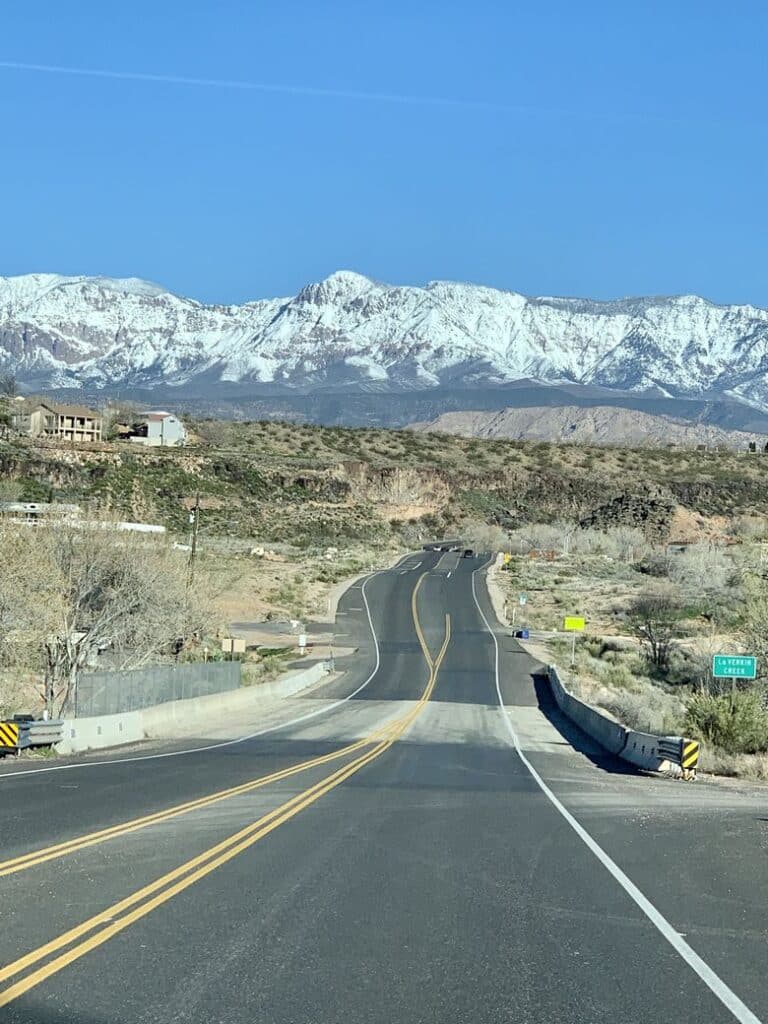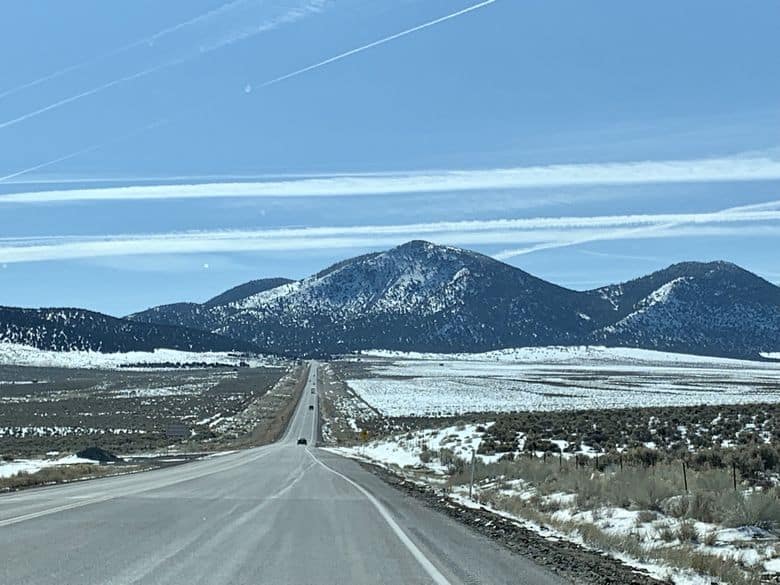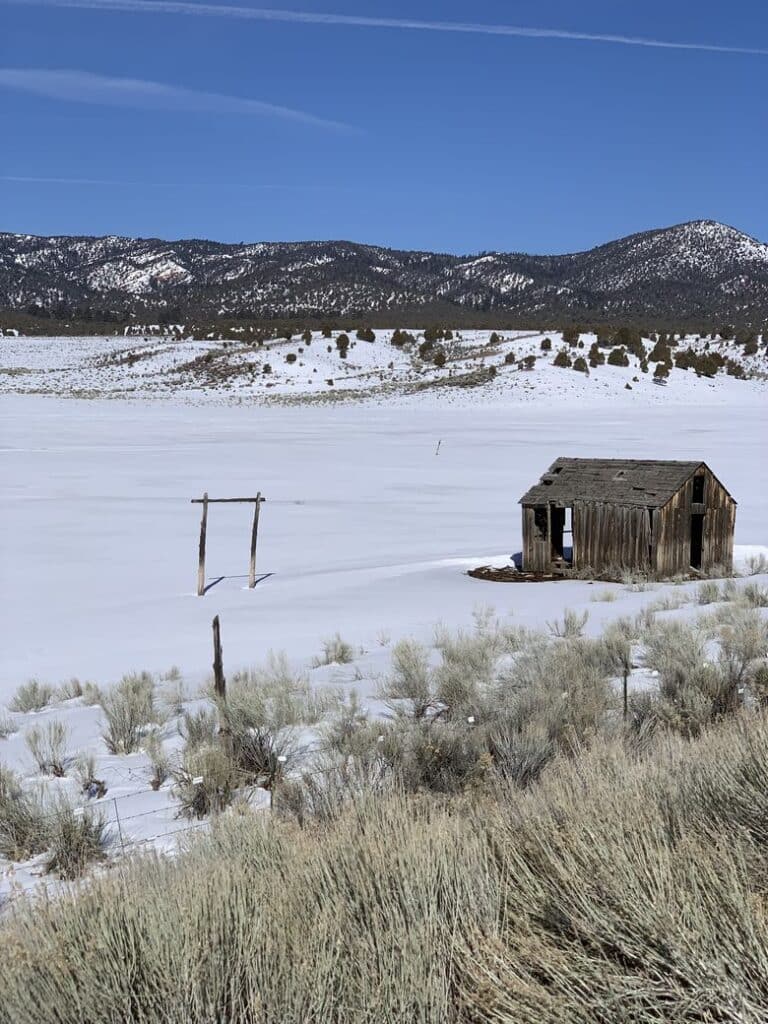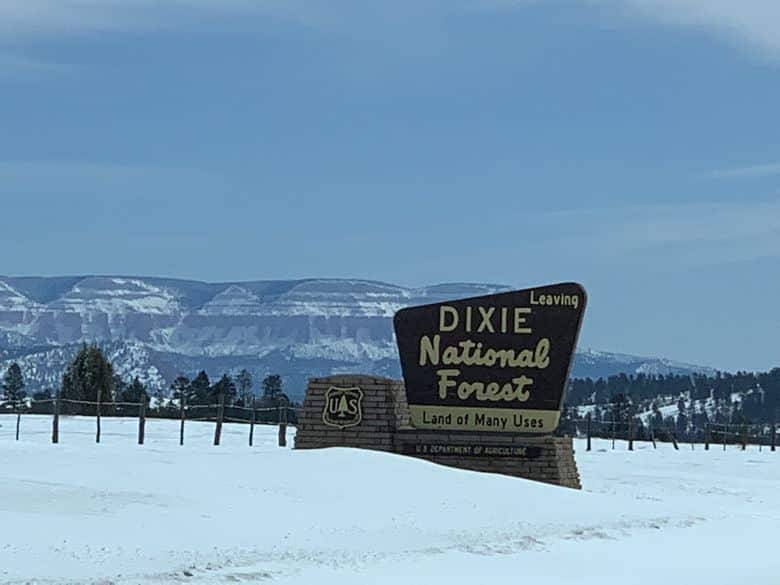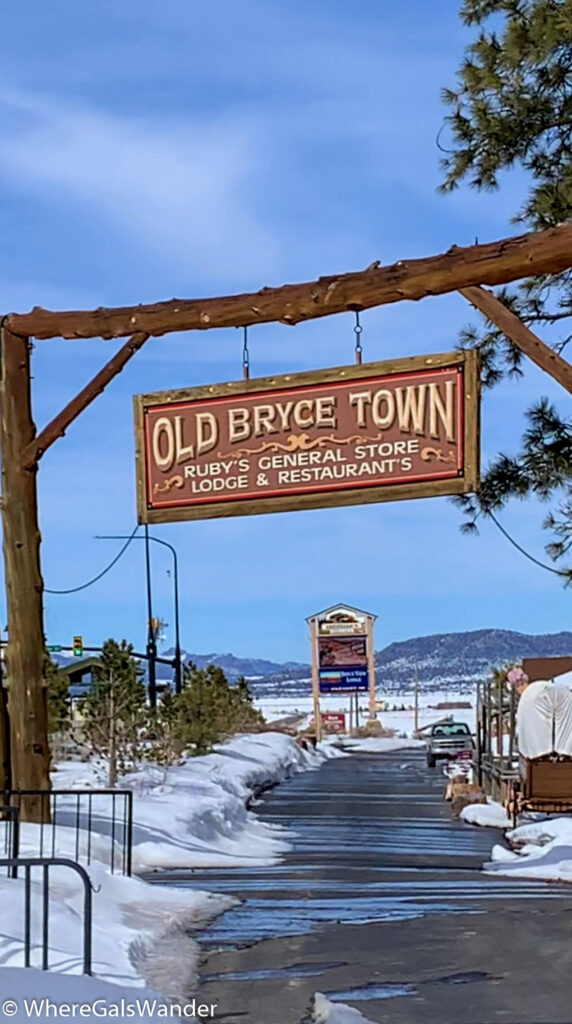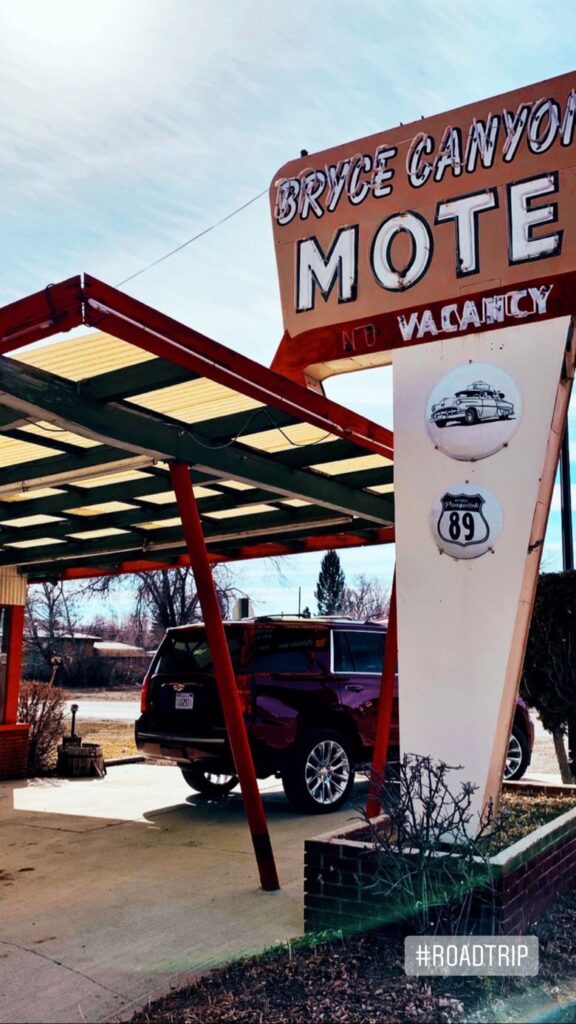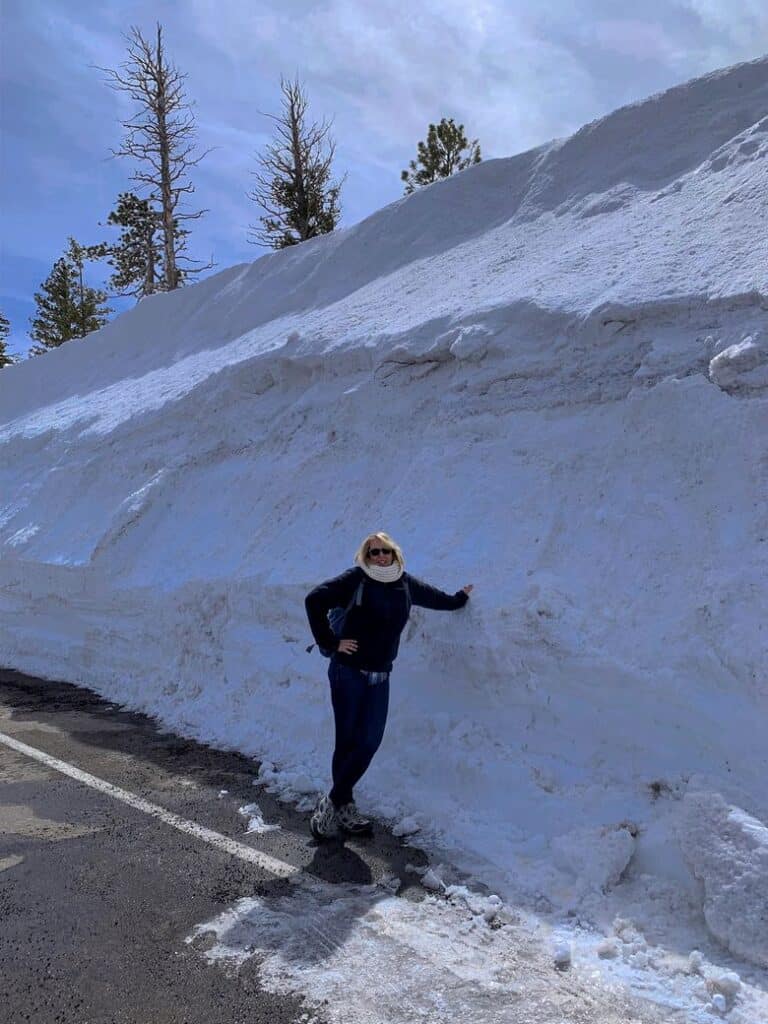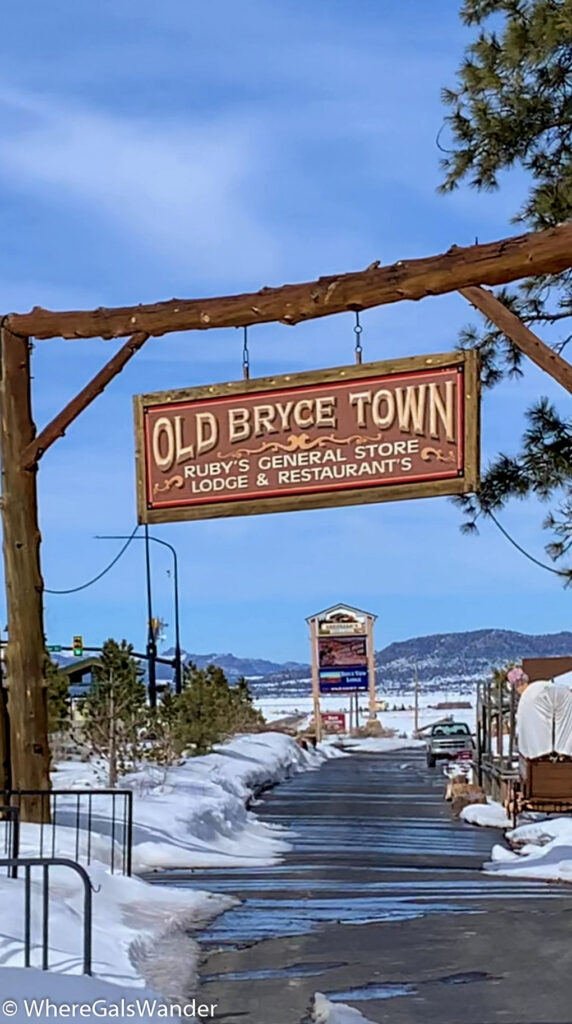 Red Cliffs Recreation Area, Utah
Last stop on our epic road trip from Los Angeles to Zion and Bryce (and beyond)
We were still feeling adventurous coming back from Bryce and felt like we wanted to see as much of Utah as we could. As the late afternoon turned to dusk, we pulled into the Red Cliffs Recreation Area to watch the sunset over the mountains. This is definitely a place I want to come back to hike and explore. And as the sun sank down past the snowy peaks, it concluded our three-day epic road trip from Los Angeles to Zion and Bryce. On our return trip home, we stayed a few days at the Mandalay Bay Resort in Las Vegas for some spa time and fine dining.
If this left you wanting more Utah, stay tuned for additional content coming specific to Zion and Bryce National Parks, or check out my content for National Parks Week and my Top 10 National Parks.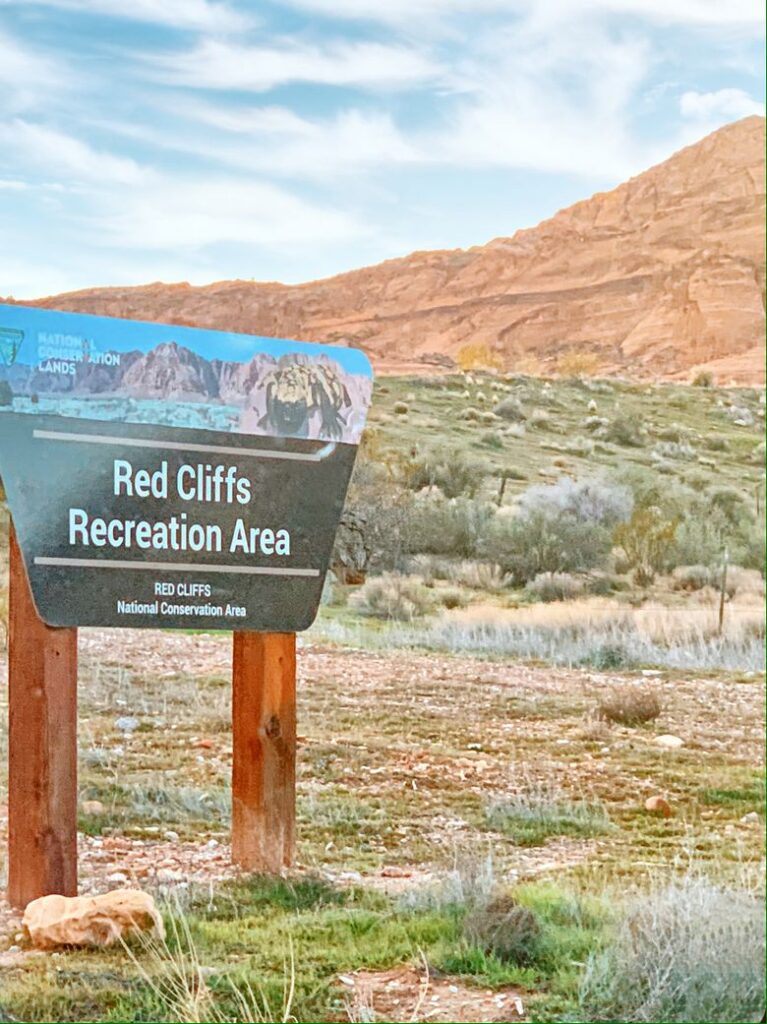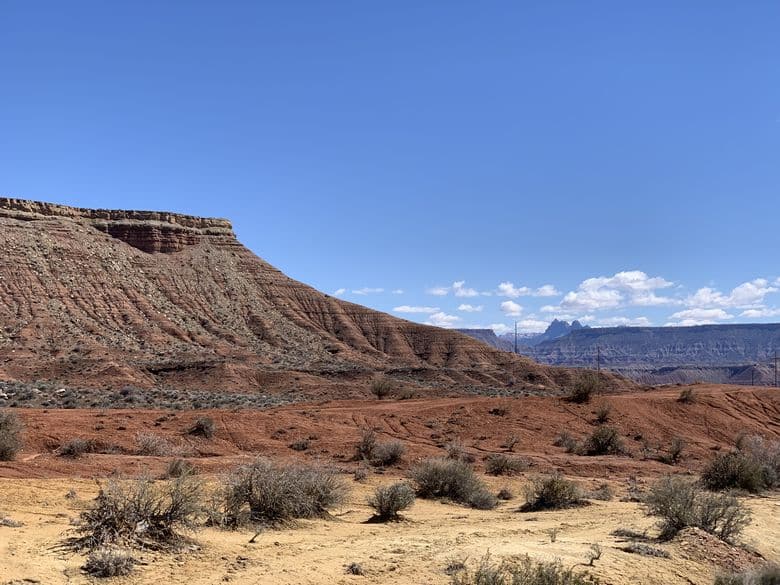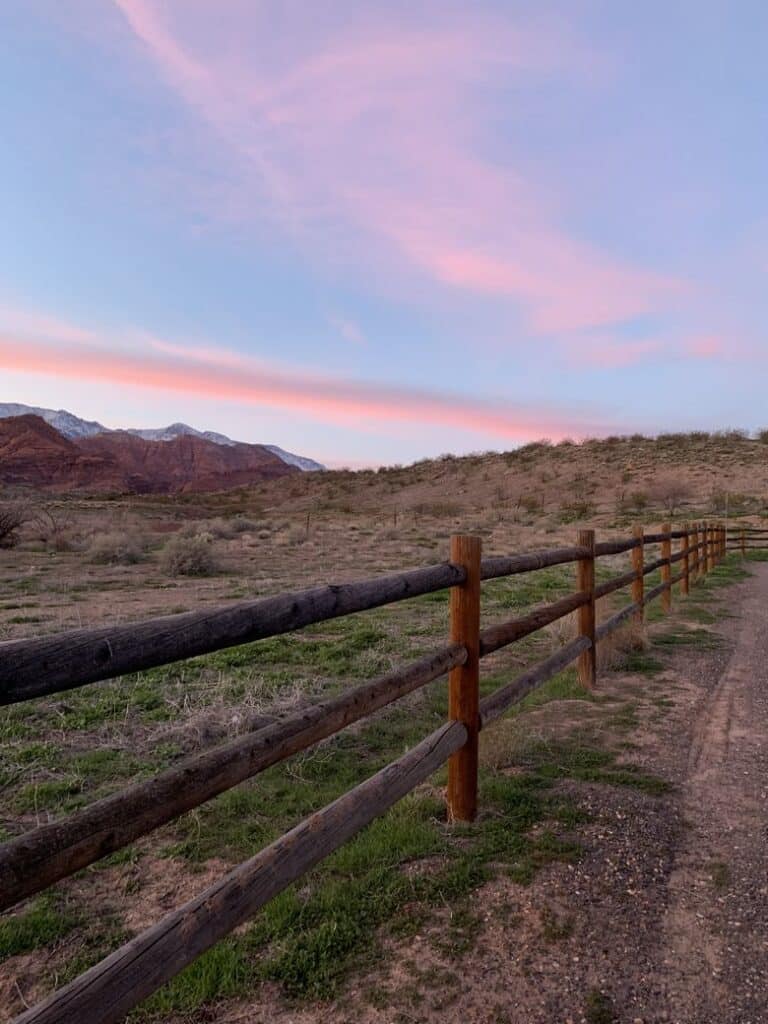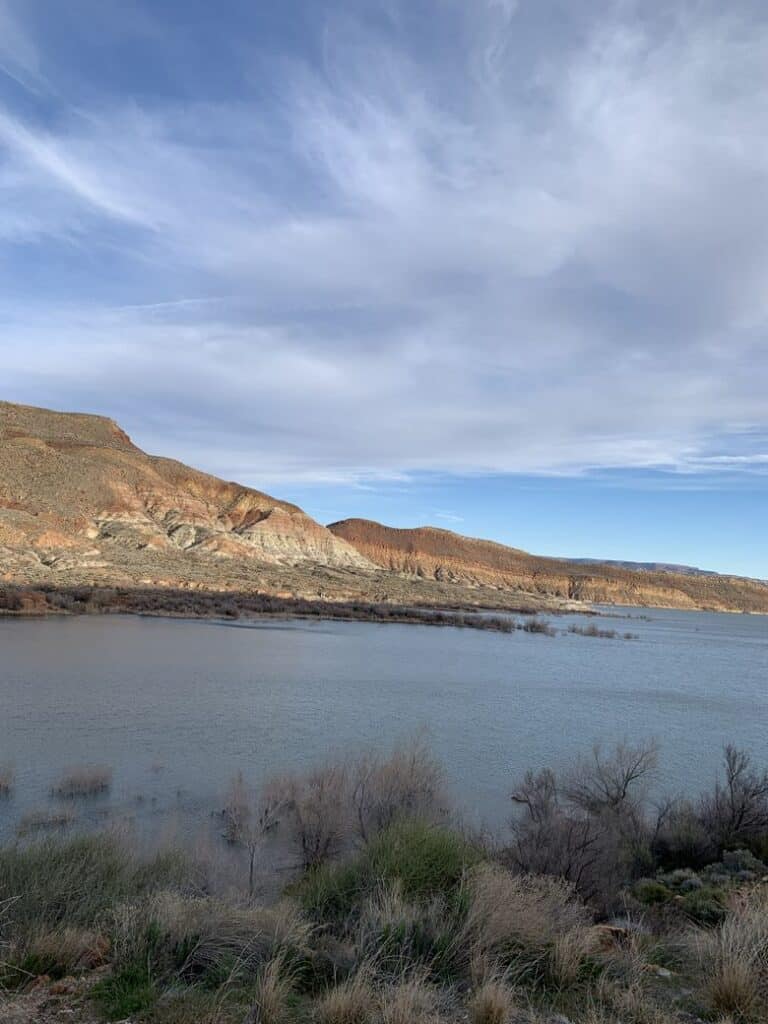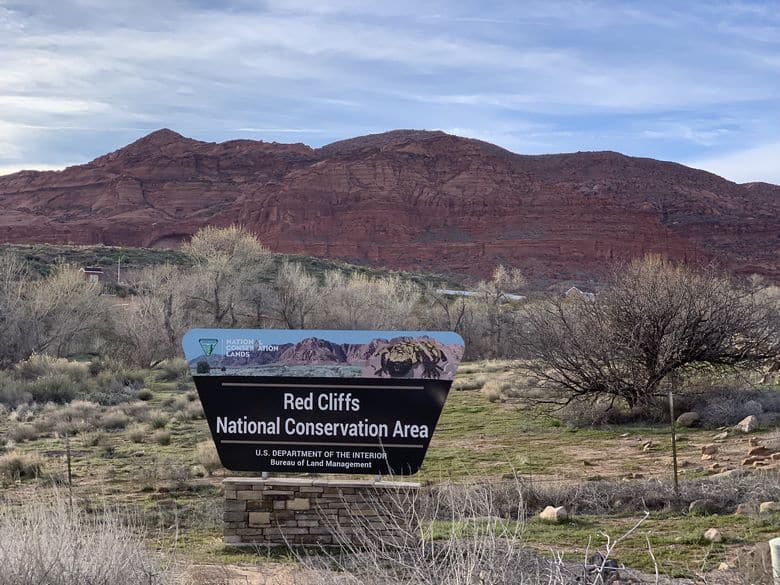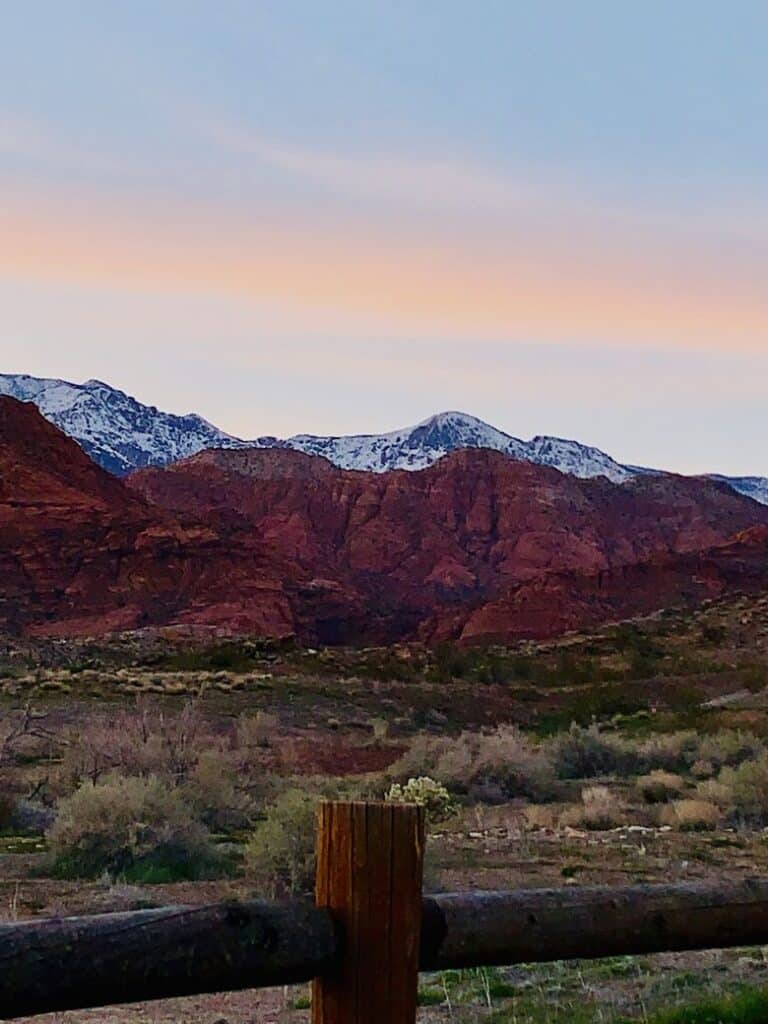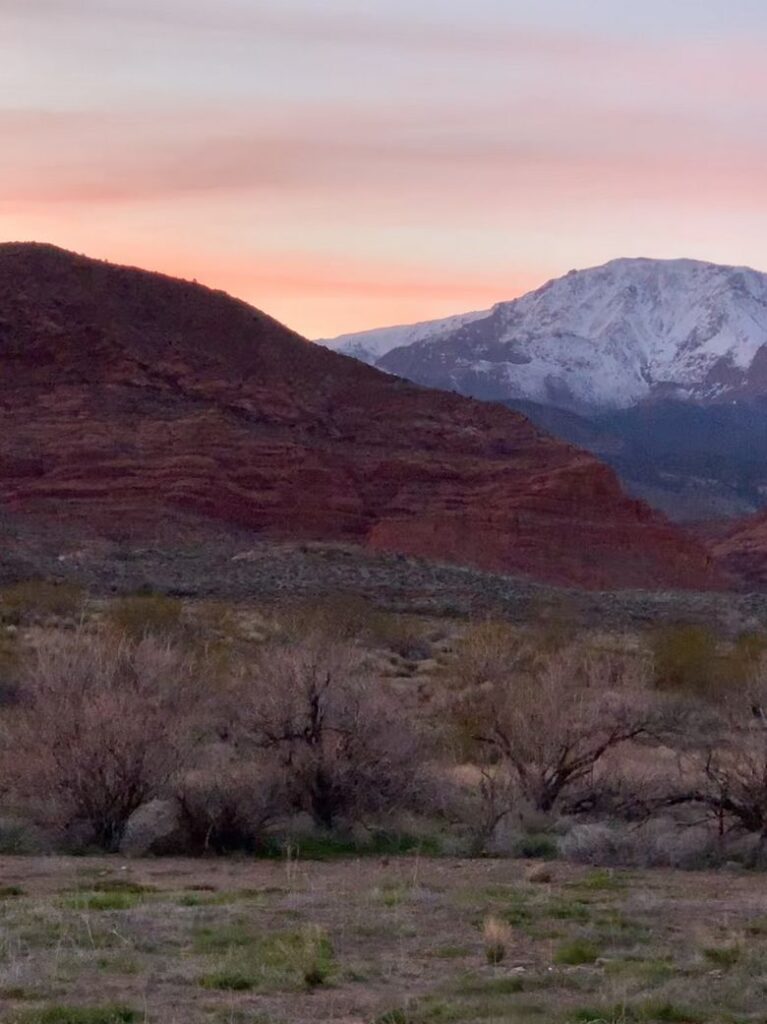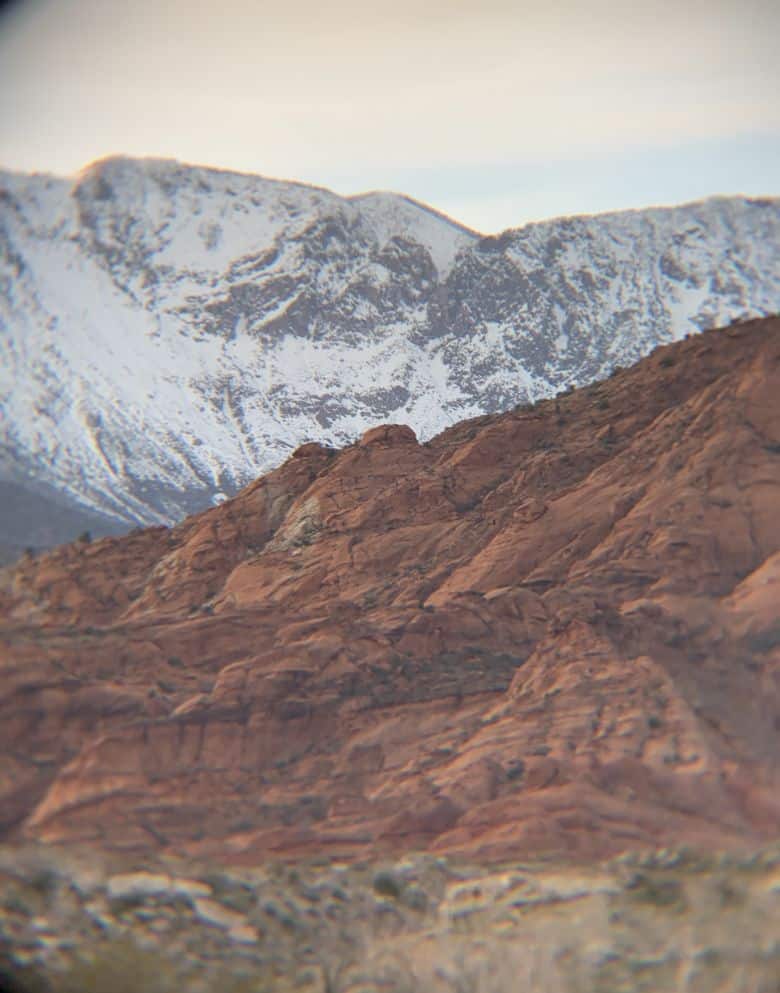 Originally published April 1, 2019, by WhereGalsWander. All content and photos owned and copyrighted by WhereGalsWander and cannot be used or replicated without written consent.