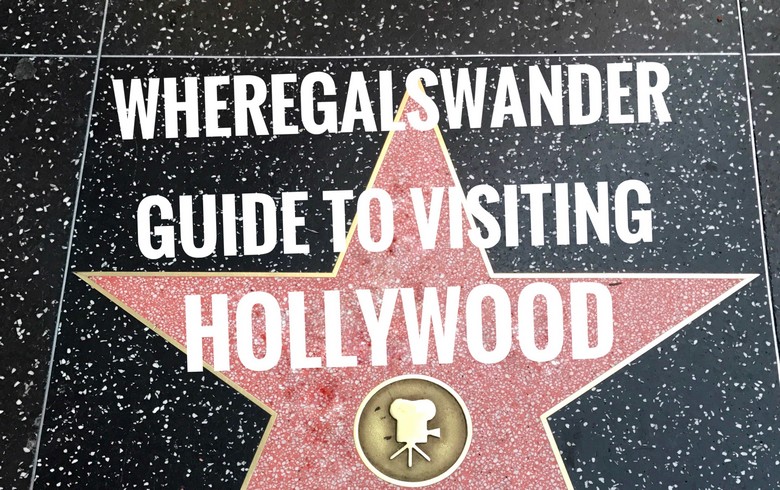 There were expectations when I moved out to LA to work in "Hollywood" as they say. I had moved out here alone, while the family finished up school and packing in Illinois while I started my new job in corporate HR working for a large, international entertainment and media company and was exploring Hollywood on my own. Sounds glamourous at least. But I was still figuring out where the grocery store was and what an HOV lane meant when they arrived.
I had no clue how to even find the Hollywood sign, let alone get a photo in front of it. When JD flew out to see me, and we drove around Hollywood until we caught a glimpse between two buildings. I parked illegally, and we jumped out to snap some horrible photos. Now that I've been here about 2 and a half years, you can take my lessons learned if you want to use the most of your time in Hollywood on where to go and where not to go.
Hollywood Landmarks
Everyone has to go to Hollywood at least once to experience the energy and see all of the famous landmarks. Here are my recommendations:
Hollywood Boulevard
Here you'll find lots and lots of tourists, all clamoring to get photos of the same sights, and the annoyed LA locals trying to walk around the tourists to get into the mall or to the gym. It will be crowded, loud, and a little underwhelming based on the Hollywood fantasy built up in everyone's mind. It's still cool to see, and I enjoy taking visitors there as long as you manage expectations. All of these listed below are on Hollywood Boulevard so its a nice 30-45 minute walk (depending on how many photos you want to stop and take).
TCL Chinese Theater:
Formerly Mann's Chinese Theatre, definitely worth checking out the exterior for this famous landmark with the celebrity handprints in the cement.
Hollywood and Vine:
The intersection is known for being an icon in Hollywood, known as Bob Hope Square. Capitol Records is just north of here.
Dolby Theatre (Kodak Theatre)
is located inside the shopping mall at Hollywood and Highland, and is known for being the home of the Academy Awards (Oscars). Unless you really want a photo of yourself on the steps, not a lot to see. The mall itself has the winning movie titles posted on pillars going into the mall but at the end of the day…it's a mall.
El Capitan Movie Theater
is amazing if you are wanting an extra special experience if you see a film there. I saw The Last Jedi there and they had the opportunity to get your photo taken with Stormtroopers and BB8, as well as displaying props and backstage photos from the film.
You have your Hard Rock Cafe Hollywood, also full of memorabilia. Your adjoining Disney Store/Ghiardaldi Chocolate Shop next to the movie theater. Great little spots to pop into if you're making a day of it or rounding out a day or evening at El Capitan or the Jimmy Kimmel Show since they are all steps away from each other.
Walk of Stars
Walk of Stars is fun, but it's long, and crowded. Don't expect to capture a photo without someone else being in the way. It is bigger than you would think, with 2600 hundred stars and spans over 15 blocks. If there are specific stars you want to see, I suggest finding their location online and then making sure you hit those spots, because they can be easy to walk by with all the crowds and you can walk a long way thinking you are still on the hunt after you've already passed it.
Roosevelt Hotel
The hotel was opened in 1927 and is the oldest operating hotel in 1927. It's been highly recommended by many, but I haven't gone inside.
Madame Trousseau's Wax Museum
it's a novelty, we did it when the kids first came out and we went house hunting in California. We all have our special favorite stars we want our photos taken with. but is it worth the time and money to walk through the entire museum?
Street Performers/Characters
Tip: The street performers and characters dressed up on the street inviting you to snap a photo with them? They expect to be tipped and can be demanding about it.
Hollywood Sign
Option 1:
Park in the garage at Hollywood and Highland. Exit into the shopping plaza and there is a lookout where you can see the sign off in the distance and it's perfectly set up for photo-taking. But don't expect anyone to see the sign unless you point it out in the photo.
Option 2:
Drive to the Griffith Observatory and parking, going up to the Observatory itself and you have a perfect view of the sign, but still far, and obviously still difficult to see in photos.
Option 3:
You can navigate Hollywood Hills/Beachwood Canyon neighborhoods, trying to guess which "no access to Hollywood Sign" signs are really true and which are put up to discourage tourists. My opinion: it's frustrating trying to navigate through here to snap the same photo everyone else is snapping, and the streets are full of tourists literally in the middle of the street so sometimes you can't even drive, let alone park. One fun note: the original realty company that put up the sign as an advertisement sits on the street at the bottom of the neighborhood. Also know that the Hollywood is fenced off and closely monitored, so you can hike a few miles up to it, but your photos will be from behind it (looking over it) or several feet in front of it, making it a challenge to get a photo of yourself in front of the entire sign.
Option 3: My other favorite option is parking along Lake Hollywood Park (its a playground and soccer field) where I took the photo below. Note: there is a sign that says watch for rattlesnakes.
Tickets to Shows and Screenings
Check out websites like 1iota.com which offers free tickets to Jimmy Kimmel, Seth Meyers, James Cordon, as well as concerts, movie screenings, and special events. Make sure you check and reserve far in advance. I've seen an intimate, private concert with The Band Perry for a TV Special, and have been in the live audience for Jimmy Kimmel with the cast of Star Wars, as well as seeing Chris Stapleton, Dierks Bentley in the Kimmel Mercedes Benz Outdoor Concert Stage. Can you tell I'm a country fan? Make sure you read the fine print of what to wear, where to show up and when.

Movie Studios
Ironically, most of the well-known studios aren't in Hollywood itself but line Olive Avenue through Burbank and Studio City. Here you can find WB, Comcast NBCUniversal, and The Walt Disney Company.
Sony Pictures: You can attend tapings of Wheel of Fortune and Jeopardy. Check their website for more info.
Paramount (off Melrose Avenue in Paramount) offers a tour via tram and by foot in a 5-acre backlot. Takes reservations and walk-ups, at the time of this blog, costs started at $99 per person, Thursdays, Fridays, and Saturdays.
NBC Universal- Universal Hollywood Theme Park offers a Studio Lot attraction tour as part of the admission cost of a ticket to the theme park, and they do have live filming of shows on their backlot. Netflix was filming a show while I was visiting and the tram was so close we could see the sets and the actors and everyone on the tram was asked to be silent as we drove by.

Warner Brothers offers a VIP paid studio tour to tourists you can book in advance as well. I haven't the opportunity to take the tour yet.