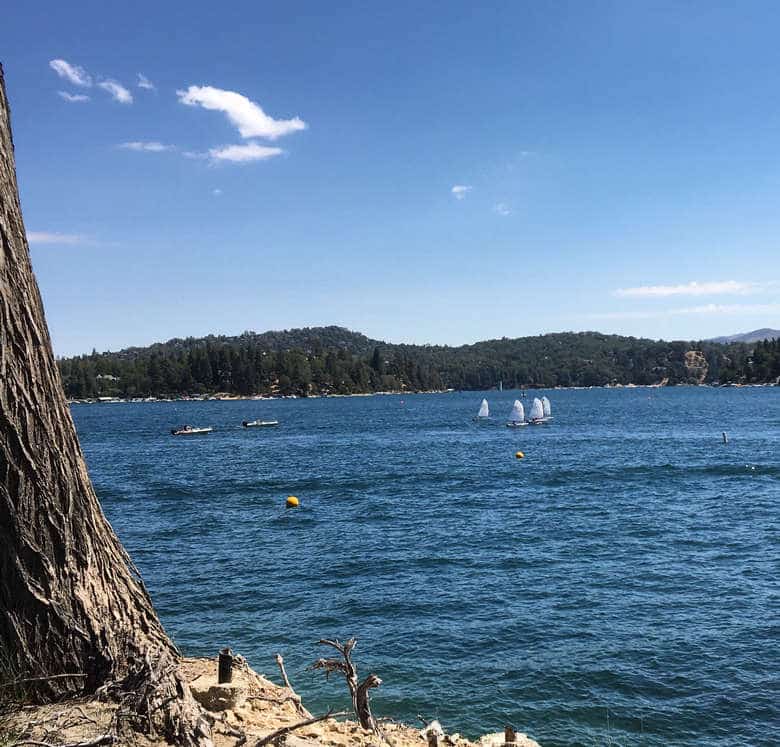 It's July and it's hot. It's 107F degrees and although it still beats the 90 F degrees and 90 percent humidity we had in Chicago, it is still just hot. JD and I are playing the "where is it hotter" game between Los Angeles and Phoenix, although she doesn't really care when she has the Mediterranean breezes as she tours through Europe, I am feeling the need to cool off. The great thing about living near LA is that I'm an hour from Malibu Beach and Ventura Beach and about 2 hours from Big Bear. This weekend I am craving the scent of fresh pine so it's off to the mountains we go.
The only thing I am not a fan of is the twisting, winding narrow roads up the mountain. It takes about 45 minutes to make the climb to 8,000 feet elevation and when we ride against the rails against the steep drop off inches away, I am torn between my fear of heights and the amazing views. If you do trip up to Lake Arrowhead, it's worth the drive along the Rim of the World Highway, where there are pull-offs to take in an overlook that makes it feel as if you are overlooking the world.
We stayed at the Saddleback Inn, in one of their King Suite Cabins, number 27 called "Sunshine" which was perfect with a seperate upstairs bedroom and bath if you decide to mke it a family trip. Downstairs was a fireplace, fridge, and enormous spa-like bathroom with whirlpool tub and large glass-enclosed shower. The downstairs sofa also pulls out to a queen size sleeper. It had everything I was looking for in my cabin weekend, including a large porch under the redwoods where I sat and drank wine and took in the view (see below for more on that story).
The resort also had a full restaurant and bar, and included a breakfast buffet in the morning. It was walking distance to Lake Arrowhead Village, which was good because parking seemed to be a challenge. I was surprised to see so many chain stores, like Coach. When I travel, I like to soak in the atmosphere of the town I am in, and being surrounded by stores like Jockey Underwear doesn't really sing "cabin life" to me. There is Lollipop Park, which has mini-golf, go-carts and a carousel and is very cute for little kids. You can take in views of Lake Arrowhead, although there aren't public beaches (go up the road to Lake Gregory, but expect to pay for parking and admission). There are some great restaurants overlooking the lake with patio seating and amazing views.
Most importantly, my dog Molly had a great time. Molly is a Bernedoodle, half-poodle, half-Bernese Mountain dog and it's only fair that mountain dogs get to enjoy their time here too. Many restaurants have a pet-patio friendly, there is an area for dogs to play in a fenced Astro-turf park overlooking the lake and Saddleback Inn only charged us an extra $35.00 per night for Molly in the cabin, as long as we made sure she stayed off the furniture. She loved hiking with us the next day through Big Bear but I'm saving those "tails" for another day. Big Bear is about an hour away, and be prepared for even tighter, winding roads but the hiking, views and Big Bear Village are worth it. If you want the absolute cabin in the woods feeling, I would suggest a three day weekend, with a half to full day at Lake Arrowhead, and then at least one night at Big Bear. For additional stories on recapturing that feeling-like-a-kid again in Big Bear Village, read our Christmas In July story.
Lake Arrowhead

Saddleback Inn where we stayed. You can see the entrance to the Village is within walking distance

Lake Arrowhead Village

Lollipop Park has go-carts, mini-golf and rides

Beautiful trees outside our porch

Lake Arrowhead

Sunset at Lake Arrowhead

Lake Gregory has public beaches

Lake Arrowhead Village Shopping

Our porch at the cabin at Saddleback Inn

My view looking up athe redwood next to our cabin porch

View from Rim Of The World

Lake Gregory

Hiking around Lake Arrowhead

The next day we drove up to Big Bear for some hiking and shopping.