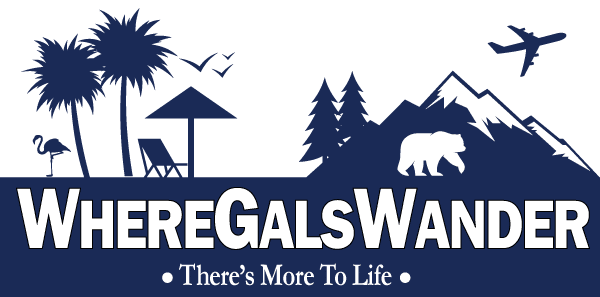 Here is a little about us: WhereGalsWander was founded in 2017. We began as neighbors on a common street in a little Illinois town. We would sit on the porch and sip wine, watching the sunset and ask ourselves "Is There More To Life?" Soon found ourselves moving in different places across the country. WhereGalsWander began as an effort to keep a sense of personal connection between each other as we all went our separate ways. We used our quips and our photos to encourage each other to take advantage of every opportunity.
Our goal then became inspiring others to explore. We emphasize the exploration of the self, positivity, gratitude. We push to go out of the comfort zone and enjoy life to the fullest. It's a travel blog with the slant of having a personal connection with the destination. Our audience does not want yet another glamorous social influencer touting their brag book.
Wander with us. Seek something meaningful. Search for destinations with beauty, adventure, and reflection. Escape from the everyday. Have a sense of purpose. Take time to care for yourself. Go on spontaneous road trips, to luxury resorts, a day at the beach, hiking in the mountains or exploring national parks. We are on an endless, daily journey we share with you in seeking "Is There More To Life?"
Our style: Our visual media gives our audience the feeling they are right there with us. Our written content is a balance between slightly sarcastic, somewhat humorous and creatively poetic. We sometimes throw in a dash of philosophy.
We still drink our wine and watch the sunsets.
Who Are The Gals
Zanne is the Founder, Editor, Publisher and Chief Trouble Maker of WhereGalsWander. You'll find her talking to trees, sipping whiskey, and bouncing between the beach, desert, and mountains every weekend around Los Angeles. She is checking off those National Parks one by one.
JD is an entrepreneur, career, and family-keeper, trekking through cactus trails in the Arizona mountains and living a glamorous life with her European travels and excursions throughout the US.
Our Contributors
We welcome guest contributors! We feature those guest blogs in our Travel Tribe section. If you are interested in contributing content, please see our submission form for review. We feature content and photos that align with our WhereGalsWander vision.
Media Kit/Collaboration
We love to collaborate with destinations, products, and brands. Drop us a line to receive our media kit and talk.
Contact Us at [email protected]
Ever Wonder Where We Wander?
Follow us on
Facebook
Twitter (@galswander)
Instagram (@WhereGalsWander)
Hype
Mixx
YouTube (@WhereGalsWander)
#WhereGalsWander
#MoreToLife
WhereGalsWander In The Media: Podcasts, Interviews, Videos and More