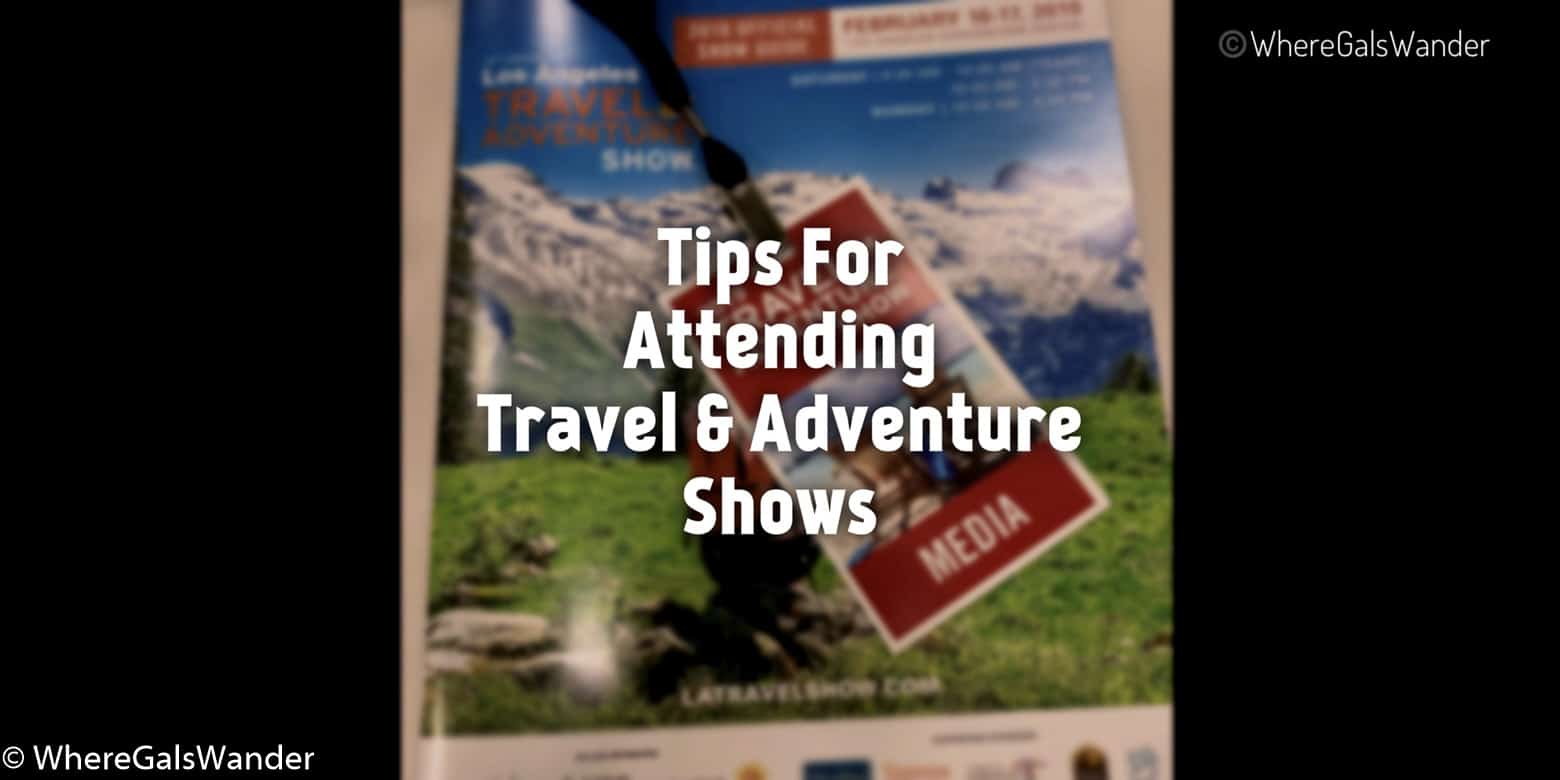 Last week I attended the Los Angeles Travel and Adventure Show, and as a first-time attendee, I'm bringing my tips to you.
Now that I'm a travel blogger, I'm always looking to expand our quest for #MoreToLife. How can we find meaningful experiences where we can connect with our destination? Or travel with people we care about to strengthen those bonds? What better way to learn about different cultures and places that to be able to see them all at the LA Travel and Adventure Show.
First, I have to say that the LA Travel and Adventure Show was better than I imagined. I was surprised at how many people I truly had a chance to meet and really talk to. Some convention shows are table-hopping to grab brochures. The opposite experience of trying to swerve away from someone shoving a paper at you and yelling a sales pitch. What I found instead were people from all over the world who were truly passionate about the places they were from. It was captivating to hear them talk about what they loved the most about their homelands.
Travel Means Different Things to Different People
I think many people attended the show trying to win free trips, or get great deals on travel packages. I take a different approach to travel. It's not how many places I can see, or have great Instagram photos, its finding places that I really connect with. If I connect with a place, no matter how close or how far, I want that to come across in my photography. The goal isn't to post the same photo that everyone else does of the latest hot spot. I don't mind that we don't have a million followers. I get a chance to really interact with our social media followers, and if I'm sharing a place that was special to me, I want them to appreciate that too.
But back to the Travel Show. I'm going to share what the experience was like. Talk about what to expect. Give some tips before you go. I'll share some of my favorite destinations that are now on my travel wishlist.
There is also a video up on WhereGalsWander of me attending and interviewing some of my favorite places from the Los Angeles Travel Show that can be found by clicking here.
The Travel and Adventure Show Experience
In a word: amazing. It wasn't completely over the top, which I appreciated. There were showcased booths with performers and such, but it was also nice to have intimate chats with folks behind a simple table. I arrived before the show opened, and as a member of the media, we had a chance to take it all in and start to talk to the exhibitors before the doors opened. Even after lunch, when the LA Convention Hall started to really fill up, it wasn't so crowded where you were jostled. They did a great job with the layout and marking the areas with visible signs for Asian Destinations, Exotics, USA and such. They had an inflatable ziplining ride and there was the talk of a dive pool somewhere. It's a large venue. There are many stages for speakers and stage featuring global performers.
Tips for The Travel and Adventure Show
None of my tips are going to be earth-shaking revelations, but some good reminders:
The theme is to be early. Early to find parking. Early to grab your seat for speakers. Eat early before you arrive.
Gear up: Comfortable shoes, a pen, and notepad, especially if you are listening to the speakers give tips. Bring some sort of bag to carry away any materials that you pick up. I was surprised at the heft of some of the travel books they were giving away.
Food was limited inside the LA Convention center. Options were muffins, pretzels, fountain sodas (without straws here in California). I'd suggest planning your meals before or after the event.
If you can identify which exhibitors you have an interest in talking to prior to attending, have your questions ready for them. You could see their eyes light up when someone asked a question besides "tell me about your location?" You will get more information if you can talk to them beyond their standard pitch. It makes it more enjoyable for you and for them.
Make sure to take time to watch the global performances. It really enhanced the experience to watch the dancers and performers.
The speakers were just incredible. Presenters like Patricia Schultz, author of 1001 Places To See Before You Die and legendary travel host Samantha Brown gave informative, valuable and entertaining talks. Naturally, these filled up beyond capacity.
Travel and Adventure Show Destinations
The wanderlust bug bit me hard, and in no particular order…may I present…Zanne's List of Places To Go.
My destination wish.

California
I was not expecting to find unknown destinations just hours from my house after meeting with exotic islands and far-away places. It was exciting to find some simply beautiful destinations that would make perfect weekend get-aways.
Tenaya Lodge at Yosemite
Kathrin Poetter described the new cabins being built at the gorgeous Tenaya Lodge. Suddenly everything at Yosemite seems new again.
Big Bear
Listening to Eddie Kirsh Big Bear Visitors Bureau talk about Keep experiences, hiking, and fishing adventures this spring made me ready to pack my bags. Michelle Vaughan with JustBigBear vacation rentals is one option if you're looking for a place to stay.
Ridgecrest
Ridgecrest was a new destination to me, often a stopover when traveling to mammoth Lake or Death Valley or Las Vegas. Often used as a filming location, home of a Petroglyph Festival, protector of wild horses and burrows it seems like a natural place to include on a road trip. Elizabeth Nagaland shared some of the unique features of Ridgecrest with us.
Alaska
After living in Chicago most of my life, I thought I had seen enough of the cold, but Casey Ressler of Mat-Su Valley in Alaska described such incredible adventurers that I now must walk on a glacier. Mat-Su Valley is off the beaten path, north of Anchorage and gives you that true Alaskan experience.
Exotic Islands
There were so many islands to explore, but these captured our heart the most:
The Cook Islands: we loved to hear of its unspoiled beauty and that it is like Hawaii, but less traveled. Christian Mani spent quite a bit of time talking with us about how magical The Cook Islands are and I even jumped in with the performers.
Tonga: Swimming with humpback whales and discovering unknown sea caves? I'm in
Antigua and Barbuda: The romance alone captured my heart, as described by Kim Justin-Essen

Additional Destinations for 2020
Nicaragua: Ana Garcia shared with us the folklore behind the dolls, and talked about the culture of Nicaragua as well as promising we would be greeted with a hug.
Poland: I recently started tracing back some of my ancestries and being 47% Polish, I had to stop and talk with Jacob Wolosz.
A Highlight of The Travel & Adventure Show: Patricia Schultz
My encounters with all of these wonderful people are also captured on video. You can meet them for yourselves, and see clips of Patricia Schultz and Samantha Brown: check out the video here