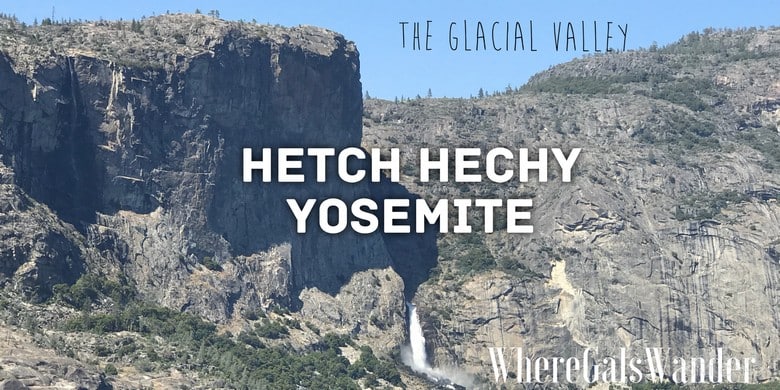 Not many people realized Hetchy Hetchy is another option when visiting Yosemite National Park. Honestly, I didn't know this existed inside Yosemite.  There are several reasons why you must make Hetch Hetchy a Must See.
Hetch Hetchy is a Must See
Because it's not as well-known, it's much less crowded.  When we arrived at Yosemite on a Friday afternoon the first week in June, we did a drive through Yosemite Valley (see why here).  We were surprised to find the entrance to Hetch Hetchy was a five-minute drive from Evergreen Lodge. There was easily found ample parking to start exploring once inside.
Hetch Hetchy is a glacial valley, part valley, part reservoir, and part water system feeding the Tuolumne River.  It has a unique and diverse landscape all its own.  Entering the Park, the enormity of the rocky mounds makes you feel like you are on another planet.
The O'Shaughnessy Dam
The O'Shaughnessy Dam is what creates the reservoir. It is over 3,800 feet elevation, in a large concrete arch that allows visitors to walk across. It offers tremendous views of the natural waterfalls and lake on one side. The tremendous power of the water roaring out the other side to feed the beautiful valley. It's a powerful and unique experience to witness in person. It's an interesting fact, the controversial dam provides San Francisco with 85% of its water supply of 400 million gallons a day to 2.4 million people. One of the primary sources for water is from Mt. Lyell (13,000 feet).
Lots of hiking trails to the waterfalls themselves, through caves and suggested for non-novice hikers. There are 287 miles of hiking trails just in Hetch Hetchy alone, including some that connect to the Pacific Coast Trail.
Had we known in advance about this uncrowded, scenic spot to hike and explore, we would have saved a full day to really experience it.  It was perfect to see after the long drive up to Yosemite and get to experience the National Park's beauty without the crowds. As you can see in our photos, we basically had the entire valley to ourselves.
Yosemite's best-kept secret, and one of our Travel Tips for First Time Yosemite Visitors. Check out our other Yosemite posts: Morning Coffee at Half Dome and where we stayed at Evergreen Lodge.